2016-08-27 10:51:13
Vincent Paul
Dehumidifiers
What is a Dehumidifier?
Basic Things You Must Know About a Dehumidifier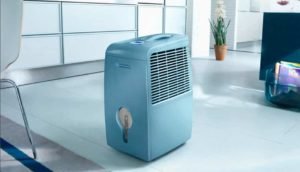 The dehumidifier is a home appliance whose main purpose is to maintain the level of humidity in the air at tolerable level. It is important to maintain the right humidity inside your home for health reasons. Some people find it difficult to breath when staying inside an extremely humid place. The dehumidifier along with the room purifier helps in making it easier for people to breathe in the air around them.
Since the dehumidifier is able to maintain the right level of air humidity, it makes the environment less conducive for molds and mildew to grow, and for disease-causing insects like fleas, cockroaches, and moths to live in. For ease of breathing, air humidity should be maintained between 30% to 50% relative humidity.
Benefits of a Dehumidifier
This video summarizes all the benefits of a dehumidifier for your home and the features you should consider when purchasing one.
There are four types of home dehumidifiers that are available in the market. These are electronic, air-conditioner, and mechanical dehumidifiers.
Three Types of Dehumidifiers
The main process performed by dehumidifiers is transforming water vapor suspended in mid-air into liquid form so that the air stream becomes lighter and more suitable for easy breathing. The four types of dehumidifiers perform this process with the only difference in the components and techniques used to do so.
Electronic – This dehumidifier uses electricity and a Peltier heat pump to makes its surface cooler to condense water vapor. This is basically used in personal home dehumidifiers due to its small size and cheap raw components. An electronic dehumidifier is quiet which makes it perfect for home use.
Air-conditioner – Air-conditioners are dehumidifiers in nature. They manage and control air humidity as well as air temperature. The air-conditioner is responsible for maintaining the perfect living condition of the air in the place where it is installed. You can buy an air-conditioner for a small price but the electrical requirement of running this device sends out high utilities expense.
Mechanical – This type of dehumidifier works similar to a refrigeration device. It condenses water vapor by letting it pass in a cool coil. Condensed water is sent into a dripping bucket. Mechanical dehumidifiers are popular for being the best dehumidifier type with 45% success rate of reducing air humidity.
You can choose among these three dehumidifiers which one will be best for your home. What is important is that the type of your choice is able to eliminate a huge volume of air humidity to make the Indoor Air Quality easier for you to live in your home.
Dehumidifier Buying Guide | Consumer Reports
What is the best dehumidifier for your home? What size and features do you need? Is your home simply damp or is water getting into your home? For additional reviews, tips, and recommendations